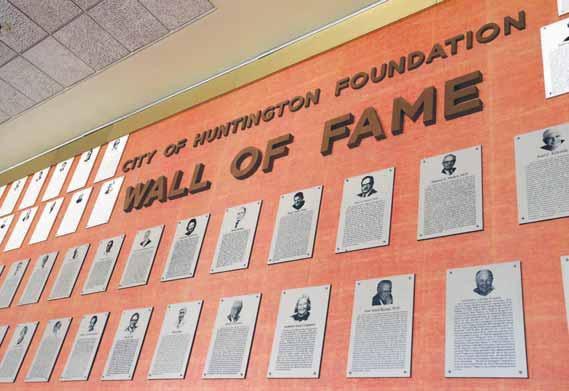 HUNTINGTON — Four more people will be named to the Greater Huntington Wall of Fame this month, honored for their distinguished community service and the recognition they have received.
Before that can happen, it first has to be decided which four names will be removed to make room for the new honorees.
That's because the wall, located inside the Big Sandy Superstore Arena, is at capacity and cannot hold any new plaques. Of the 138 people currently on the Wall of Fame, approximately 28 have plaques sitting in storage.
To solve this, the City of Huntington Foundation's board of directors, the group that reviews nominations and votes inductees onto the wall, has formed a new subcommittee dedicated to its redesign. The committee's goal is to have a new wall designed and approved by year's end.
There's been an ongoing discussion of what to do about space for the past several years, said Maxine Loudermilk, president and CEO of the City of Huntington Foundation.
"It's a real trophy to go on that wall. Like anything else, as time goes by, it needs to be redone," Loudermilk said. "We need to redo and rethink that wall because it's just not viable like it is."
Part of the problem with the current wall is its availability, said Veronica Ratcliff, director of marketing and sales for the arena.
"The discussion has been, 'Should (the plaques) be in multiple places in Huntington and be accessible to those coming to visit?' " Ratcliff said. "The arena doors aren't always open. We do have people who call and ask to come look at the wall and take a picture of their loved one."
"It's a real trophy to go on that wall. Like anything else, as time goes by, it needs to be redone. We need to redo and rethink that wall because it's just not viable like it is."
Maxine Loudermilk
City of Huntington Foundation president and CEO
Ratcliff has been serving as secretary for the redesign subcommittee. She favors an electronic solution, which she said could solve space and availability issues.
The wall could be in the form of a kiosk and placed at several locations downtown, she said. People could come to the kiosk, type in a name and read all about the honorees.
That would be similar to the Marshall University Athletic Hall of Fame, which shows an honoree's biography on a central screen after someone selects a name from its wall.
The only problem with that plan is a question of who would build the program, said Tim Carpenter, City of Huntington Foundation board chairman.
"I have Windows 7 at my office, but when I go home I have Windows 10, which has 3D Paint and all of these things you don't know how to use," he said. "With the technology of a kiosk, who is going to maintain it and who is going to service it?"
The decision to redesign the wall comes during a time of other big changes happening at the arena. The arena has recently undergone a facelift, complete with a repainted exterior and new interior lighting upgrades.
It could also soon have a new name. There are multiple entities pursuing the naming rights for the arena, said Bryan Chambers, the city's communications director.
Big Sandy Superstore has owned naming rights to the arena for at least a decade, but that has since expired.
The arena's new name would be announced when the city presents a contract to Huntington City Council, which would have to approve it first, Chambers said.
In the meantime, there's been nothing to indicate ongoing changes at the arena will affect the wall's future there, Ratcliff said.
"No one at the arena, the city or anyone wants to see the Wall of Fame disappear," she said. "It's just run out of space and the question becomes, 'How do we move forward?' "
When honorees are named to the wall, Loudermilk has the task of removing old names to make room.
"I know their stories and I know their families," she said. "I stand there looking at the Wall of Fame with tears in my eyes. I know them. They are not just strangers."
Loudermilk said she chooses names that have been on the wall for many years and may no longer have family in the area. The removed plaques are then stored in the foundation's offices at City Hall.
The Wall of Fame has been honoring people with Tri-State ties since 1986. The 2019 list of honorees will be announced Monday, Aug. 5, and a ceremony will take place Oct. 17.
The city of Huntington owns the arena. Its facilities are managed by SMG, which manages arenas, coliseums and stadiums in multiple states.
Travis Crum is a reporter for The Herald-Dispatch. He may be reached by phone at 304-526-2801.