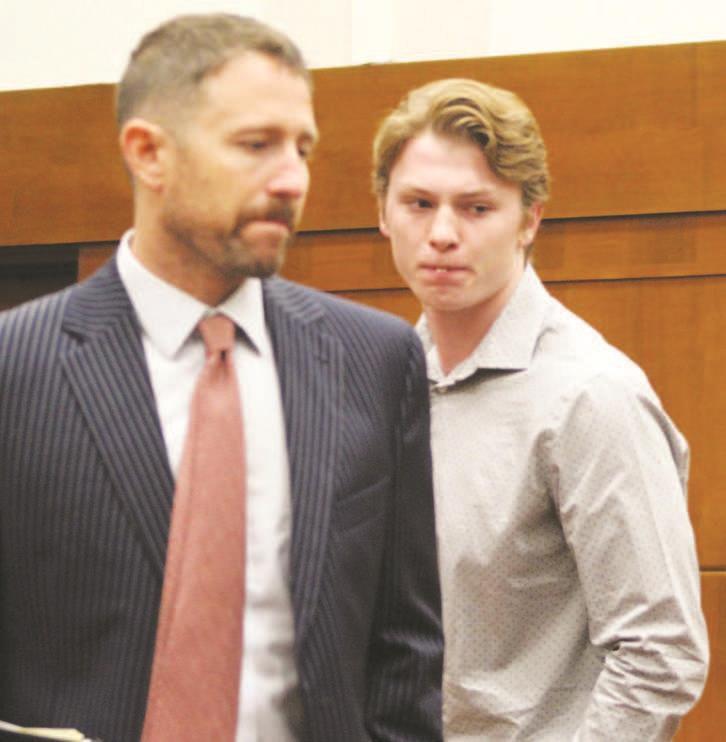 HUNTINGTON — A Huntington teenager was convicted of misdemeanor battery Tuesday in what prosecutors called a sexually aggressive case caused by the defendant's unwillingness to listen to his victim when she denied his advances.
Zane Richard Lanham, 18, a former Huntington High School wrestler, entered a Kennedy plea to misdemeanor battery, which allows him to be punished for the crime without admitting his guilt. A felony first-degree sexual abuse charge was dismissed as part of a plea deal.
Cabell Circuit Judge Alfred E. Ferguson upheld an agreement reached by the prosecution and defense and ordered Lanham to serve 18 months of probation and a year's worth of counseling for what was called his sexual aggression.
A one-year jail sentence was suspended. The year of counseling could be reduced by as much as six months if monthly reports show a positive disposition by the defendant.
Ferguson said he hopes the victim will be able to move on with her life following the conviction.
"When a person says no, they mean no," he said. "Even though you may have had some relationship with her in the past, it's over."
According to assistant prosecutor Kellie Neal, Lanham was supposed to drive the victim home Nov. 9 after Huntington High School's football victory over Cabell Midland High School, but instead wanted to get food, despite the victim asking him to just drive her home.
Lanham got fast food and then drove to an empty, dark parking lot at Ritter Park, where he began to kiss the victim and touch her without her consent, Neal said. At one point, he climbed on top of her, unbuckling her seat belt, despite her continuously saying no and asking to be taken home.
"When a car pulled in behind them, he eventually stopped," Neal said. "He then indicated he would find somewhere else to go. He drove her around for a while and eventually drove her home."
As Neal read the allegations to the court, Lanham shook his head left to right in disagreement. Defense attorney Rich Weston said his client's version of the story differs from the prosecution's, but did not elaborate.
"When you're young, sometimes signals get crossed," he said. "It's a gray area."
Lanham did not give a statement about the plea at the hearing when asked by Ferguson, and the victim did not attend the hearing. Lanham said the victim attended school with him and the pair had dated on and off for years.
The plea deal was reached to accommodate the victim, who Neal said wanted Lanham to get counseling for his sexual aggression, and for Lanham, who is planning to attend a university in South Carolina in the fall.
According to a news release from Lander University in Greenwood, South Carolina, Lanham is expected to join its wrestling team in its inaugural season this coming school year.
Lanham will be allowed to apply for out-of-state probation supervision, but if that is not approved, his probation could turn into unsupervised probation and counseling reports will be reviewed by prosecution.
Follow reporter Courtney Hessler at Facebook.com/CHesslerHD and via Twitter @HesslerHD.