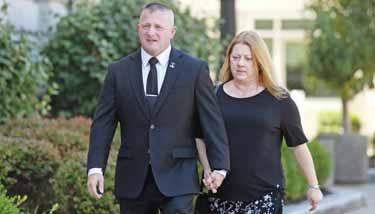 HUNTINGTON — A former federal employee pleaded guilty to computer fraud Tuesday, admitting to illegally accessing the medical records of a former West Virginia state senator, along with five others, during the former senator's 2018 bid for Congress.
Jeffrey Scott Miller, 39, was charged with six counts of use of a computer for unauthorized access to government documents after allegedly accessing medical records for six individuals last year while he was an employee with the Veterans Benefits Administration, according to an information filed last month in the Southern District of West Virginia federal court district.
An information is a formal charge filed against a defendant who agrees for the charges to be filed without the case being reviewed for indictment by a grand jury. It usually indicates a defendant is cooperating with an investigation.
Although the victims' names were not used in court Tuesday and agents with the federal government declined to release the names of those involved after the hearing, former state Sen. Richard Ojeda, D-Logan, has identified himself as one of the victims.
As part of the plea deal, Miller faces up to one year in prison, a $100,000 fine and one year of released supervision, among other things, for each of the six counts at his Dec. 9 sentencing. U.S. District Judge Robert Chambers accepted his guilty plea Tuesday, but said he would not uphold the plea agreement until an investigation into Miller's personal and criminal history was completed.
Miller also agreed to cooperate with federal investigators and testify in possible further prosecutions to come.
Mike Stuart, U.S. attorney for the Southern District of West Virginia, called the matter "very serious."
"Medical records are protected information, and the expectation and right of privacy is paramount," Stuart said in a news release. "Federal law requires employees of the Veterans Benefits Administration to protect the medical records of our veterans. Anyone that improperly accesses, uses or exploits veterans' medical records will be held accountable."
The alleged fraud occurred during U.S. Rep. Carol Miller's successful campaign against Ojeda, a Democrat, for the US. House 3rd District seat in 2018. Miller, a Republican, was elected into office over Ojeda in November 2018 with 56% of the votes in that race.
Carol Miller's chief of staff, Matthew Donnellan, previously told the Charleston Gazette-Mail there is no familial relationship between the Millers and said the congresswoman was not aware of any of the illegal actions until alerted to them by a reporter last month.
Ojeda was serving as a state senator at the time of his bid for Congress, but resigned from his position just two months after losing the congressional race to run for the presidency of the United States. He exited the 2020 presidential race in January 2019. He is a retired U.S. Army veteran who served 24 years and went on three combat tours to Iraq and Afghanistan, among other deployments.
According to the information filed in federal court, at the time the alleged crime took place Jeffrey Miller was a claims assistant for the Veterans Benefits Administration in Huntington. That office provides assistance and compensation to veterans who suffered disabilities resulting from their service.
The VBA maintains thorough medical records containing substantial amounts of private medical records about those veterans. The defendant was trained on the systems used to collect the information, but was prohibited from accessing it for non-work-related purposes, the information said.
Prosecutors accuse Miller of illegally accessing medical records of five individuals who were his co-workers between Jan. 24 and April 16, 2018.
He also illegally accessed the files of Ojeda—whom the information only identified as a public figure — between March 16 and May 24, 2018. On May 17, he took a photo of that person's medical records and sent it to another individual without a work-related justification for his actions.
The photos were taken days after Ojeda won the 2018 Democratic primary election to run in the general election for the 3rd District seat.
In Tuesday's hearing, the person who received the photos was only identified as an "acquaintance" of Jeffrey Miller's.
Thomas Dominski, special agent in the Office of Investigations for the Department of Veterans Affairs, said Miller was assigned in the public contact office and would handle people who walked in off the streets. He should not have been accessing records beyond those, he said.
In a statement made to Chambers, Miller said he was trained on how to access the information and, "In doing so (he) accessed info without a good reason to."
When asked if he had any medical conditions that affected his ability to plead, Miller said he had been battling post-traumatic stress disorder for about eight years.
Ojeda sat in the front row of Tuesday's court proceedings as Miller pleaded guilty. He said he was perturbed at Miller's use of his mental health records in the court proceedings, when he had tried to use Ojeda's to ruin his campaign.
"I don't know if it caused me to lose," he said. "But it didn't help."
Ojeda identified himself as the public figure victim in the case via a lawsuit he filed to obtain more information about Jeffrey Miller's illegal agenda and the investigation that followed.
Last month Ojeda filed a lawsuit seeking a Huntington federal court to force the U.S. Department of Veterans Affairs to release its investigation, which he believes will identify Republican officials who the lawsuit alleges spread private information to sabotage his race.
Ojeda said he had received the investigation report, but it had been mostly redacted and did not identify the parties involved.
"This is doing nothing but protecting people who should be named in the lawsuit," he said.
Ojeda said he could not put into words how it meant to have a fellow veteran betray him, but said Miller's actions were dangerous and could make other vets avoid seeking help from the VA from fear that the same thing could happen to them.
Jeffrey Miller was represented by defense attorney Ray Nolan. Stefan Hasselblad prosecuted the case.