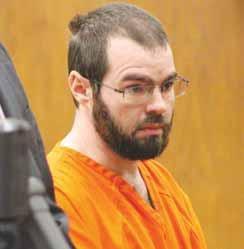 HUNTINGTON — The main assailant in a complex Cabell County murder case was sentenced this week to serve the maximum of four decades in prison after admitting to stabbing a man to death in 2017.
Brian Michael "Mikey" Bragg, 31, pleaded guilty Wednesday to second-degree murder in the death of Michael Sutphin and entered a Kennedy plea to malicious wounding in the assault of Tara Gillispie, 33, Sutphin's girlfriend at the time of his death. A Kennedy plea means Bragg accepted the punishment for his actions, but did not have to admit his role in the crime.
Cabell Circuit Judge Paul T. Farrell sentenced him to serve the maximum of 42 to 50 years in prison, 40 of which stem from the murder charge. He will have to serve at least 10 years before he is eligible to go before the parole board. The sentence could change at a reconsideration hearing set for Aug. 13.
Bragg admitted to the stabbing in a brief statement and told Farrell he had struggled with meth dependency issues at the time of the killing.
His co-defendants — Robert Lee Nance, 40, and Cheryl Dawn Nance, 34, both of Lesage, and Cynthia Bumgarner, 46, of Ona — have all pleaded guilty in the case and agreed to testify against Bragg had he gone to trial.
The events that led up to the killing started Dec. 28, 2017, with unrelated police activity when the Cabell County Sheriff's Department responded to a disturbance call in the 3000 block of Wilson Road in Barboursville after Gillispie said she had gotten in a fight with her ex-boyfriend, Sutphin.
The same day, in an unrelated event, Bragg's vehicle was involved in a hit-and-run crash, and Bragg reported his van stolen, although a man involved in that wreck identified Bragg as the driver of the van.
The next day, Dec. 29, at the Wilson Road home, Gillispie and Sutphin again allegedly had a fight before he left the home with Bragg. Gillispie later accused a family member of Bragg of restraining her and not allowing her to leave the home for three hours, which had enraged Sutphin. He later told Gillispie he had beaten the man and cut off his ponytail.
Sutphin and Gillispie returned to the Wilson Road home later in the day, where Bragg and Robert Nance entered the downstairs before Bragg threw a "spear-like rod" at Sutphin, striking him in the chest and killing him.
At this point, Gillispie reported she was held against her will by the defendants and was held for several days to give them time to cover up the murder.
The group placed Sutphin's body in Bragg's van, which had not been stolen, and split Sutphin's unused meth among themselves, Gillispie previously testified in court.
On Dec. 30, the group drove the van and a second vehicle to the Nances' home in the 7000 block of Big 7 Mile Road in Ona, where they met Bumgarner and Cheryl Nance, Robert Nance's wife.
Gillispie reported it was at this home where she was violently attacked by the group throughout the day before eventually waking up sitting on a shower curtain while wounded. She was eventually allowed to leave.
On Jan. 1, 2018, Bumgarner and Bragg met with one of Bumgarner's friends, who was told Bragg killed someone as they asked for her assistance in hiding the body. Suspecting the two were on drugs, the woman turned them away and called the local police department to report the strange conversation.
The next day, Jan. 2, 2018, Bragg walked into the Cabell County Courthouse to speak with sheriff 's deputies to confess. He was turned away when deputies felt he was too high to speak with them. He later met with troopers at the West Virginia State Police's Huntington detachment, where he confessed to the crime.
The same day, police found Bragg's van at the scene of a wreck on Barker Ridge Road in Cabell County after responding to a call about a suspicious vehicle. Inside they found Sutphin's frozen body, which was covered in debris. The crash had been staged by Bragg and Robert Nance to make his death look like an accident.
On Jan. 3, Gillispie checked into a local hospital with a stab wound to her leg, lacerations and numerous injuries to her face, head and body. She later spoke with police at the hospital.
Bragg and his co-defendants were charged with their involvement in the case over the next two days.
In the year-and-a-half since the killing, Robert Nance pleaded guilty to malicious wounding and being an accessory after the fact and was sentenced to serve a prison sentence of three to 15 years.
Cheryl Nance had entered a deferred adjudication agreement in November 2018, and charges against her were dismissed earlier this year after she successfully finished the agreement.
Bumgarner pleaded guilty to being an accessory to murder and entered a Kennedy plea to malicious wounding. She was sentenced to serve seven to 10 years. Defense attorney Tim Rosinsky represented Bragg in the case, while assistant prosecutor Joe Fincham represented the state.
Follow reporter Courtney Hessler at Facebook.com/CHesslerHD and via Twitter @HesslerHD.