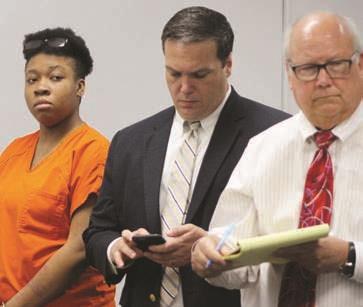 HUNTINGTON — A young Huntington murder suspect has turned down a plea offer that would spare her a lifetime behind bars, and her trial is expected to move forward sometime this summer.
Andrea Glenda Moore, 18, is charged with murder in the June 13, 2018, shooting death of Joann Dawn Saunders Childers, 32, a mother of five from Huntington, at Marcum Terrace. Moore is also charged with malicious wounding in the alleged shooting of Stephen Christopher Smith, an employee of the Huntington Housing Authority who was mowing grass at the time he was shot.
Her co-defendants, David Moore and Kenard Moore, are both charged with being accessories.
Vickie Lester, executive director of the Huntington Housing Authority, previously said an altercation began June 12, 2018, at an off-site convenience store on Olive Street among a group of people. The altercation continued into the next day and resulted in the afternoon shooting.
Moore is accused of fleeing the scene and was not arrested until June 14, two days after the shootings. David Moore is accused of helping her flee, while Kenard Moore is accused of hiding the alleged murder weapon.
Assistant prosecutor Joe Fined a plea deal to Andrea Moorecham said while he had extend for second-degree murder with a sentence of 20 years, the defendant had rejected the deal. Her defense attorney Glen Conway agreed, stating the case would move forward.
Jason Goad, defense attorney for David Moore, said there was a "decent chance" his client would accept a plea deal in the case, although he did not disclose what the deal involved.
The Moores were scheduled to go to trial July 9, but the trial is set for the same day as another murder trial, this one against Jennifer Via. Because the Via case is older than the Moores' case, it would be given preference.
A deadline of June 19 has been set to determine which case will go.
Follow reporter Courtney Hessler at Facebook.com/CHesslerHD and via Twitter @HesslerHD.