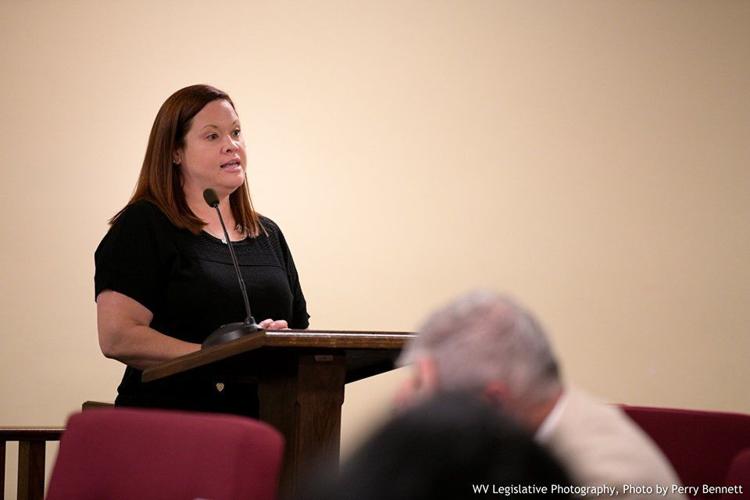 CHARLESTON — One of the many devastating consequences of the opioid epidemic in West Virginia is the effect it has on children, and if something isn't done to help them the cycle will continue, said Marilyn Pearce, regional director of Children's Home Society in West Virginia.
"West Virginia offers specialized childcare for babies with neonatal abstinence syndrome, but what about when these babies are 5, or 8, 10 or 14?" Pearce posed to the West Virginia Legislature's Joint Committee on Health on Monday morning.
Pearce said one of the consistent needs across the state is childcare, especially for children with exceptional needs such as autism or Down syndrome. It's a problem West Virginia has been discussing since the 1970s, when the state was sued after a person was improperly institutionalized for a disability, Pearce said.
"When parents desperately want to be parents but do not have the resources in place to assist them, sometimes their only option is an out-of-state placement," she said. "At the (Children's Home Society Exceptional Youth Emergency Shelter), one of the most consistent reasons we saw placements fail, parents back out and children sent out of state was the lack of community-based services."
Pearce said she fears this problem is only going to get worse as a result of the opioid epidemic.
"Foster parents have to have child care before they get a placement," Pearce said. "How do you go about finding child care for a 16-year-old nonverbal with autism with severe trauma? In the state's current circumstances, you don't."
Neonatal abstinence syndrome, or NAS, is a collection of symptoms an infant exposed to drugs in the womb experiences after birth, including tremors, high-pitched crying and trouble eating. The long-term effects of NAS are not yet known, but early research indicates an increased risk of education disabilities, cognitive impairments, and emotional and behavioral disorders are all a result of NAS.
"The rate of babies born with NAS is steadily increasing since 2012," Pearce said. "In the same time, the number of West Virginia students with special needs has steadily increased since then, even though the number of children in the state's public education system has decreased. As these children age, our state needs to be prepared to handle children with exceptionalities and the ever-present needs of their families."
Pearce's solution is a therapeutic daycare center that accepts babies as well as children over the age 14 modeled after the Achievement Center of Texas. Pearce said the ideal situation would make it publicly funded so Medicaid could be billed for services.
The Achievement Center of Texas is an award winning nonprofit that provides day care and day habilitation care for children and adults with mental and physical exceptionalities, such as autism, Down syndrome, stroke survivors and the deaf and blind.
The center provides life skills training, arts exploration, educational assistance and community inclusion for children and young adults with special needs "so they can learn functional living skills and develop self-confidence working toward greater independence and a more satisfying life," according to the center's mission statement.
Pearce said she thinks a similar center in West Virginia would help the state achieve its goal of reducing the number of children in out-of-home and out-of-state placements.
"By failing to implement services for this vulnerable population, we will continue to be stuck in this cycle we are in now and children will continue to be institutionalized," Pearce said.
The Joint Health Committee also heard from Amy Kennedy-Rickman, state director for Necco West Virginia. She discussed challenges foster care placement agencies are facing.
Kennedy-Rickman said they are constantly trying to build their capacity because more capacity means better outcomes for the children. A big factor in their capacity is retention of families.
The biggest challenge in retention is adoption. Most families that work with Necco are foster to adopt, and once they've adopted a child or group of children, they no longer are willing or are just no longer capable of fostering.
Adoption also is a financial burden on the agency itself. In 2012, agencies like Necco were permitted to facilitate the adoption process; however, Kennedy-Rickman said state law was never fully updated for this. Because of that, many courts do not recognize Necco as an arm of the state and the agency must use funds to hire their own lawyers to represent them.
She said in Kentucky, agencies like Necco receive a reimbursement from the state for all adoptions, which cover many of the costs the agencies incur when doing adoptions.
Necco has facilitated 350 adoptions in the past three years. Kennedy-Rickman said she has also seen a dramatic increase in family reunifications in the past year, which the agency celebrates just as much as adoptions.