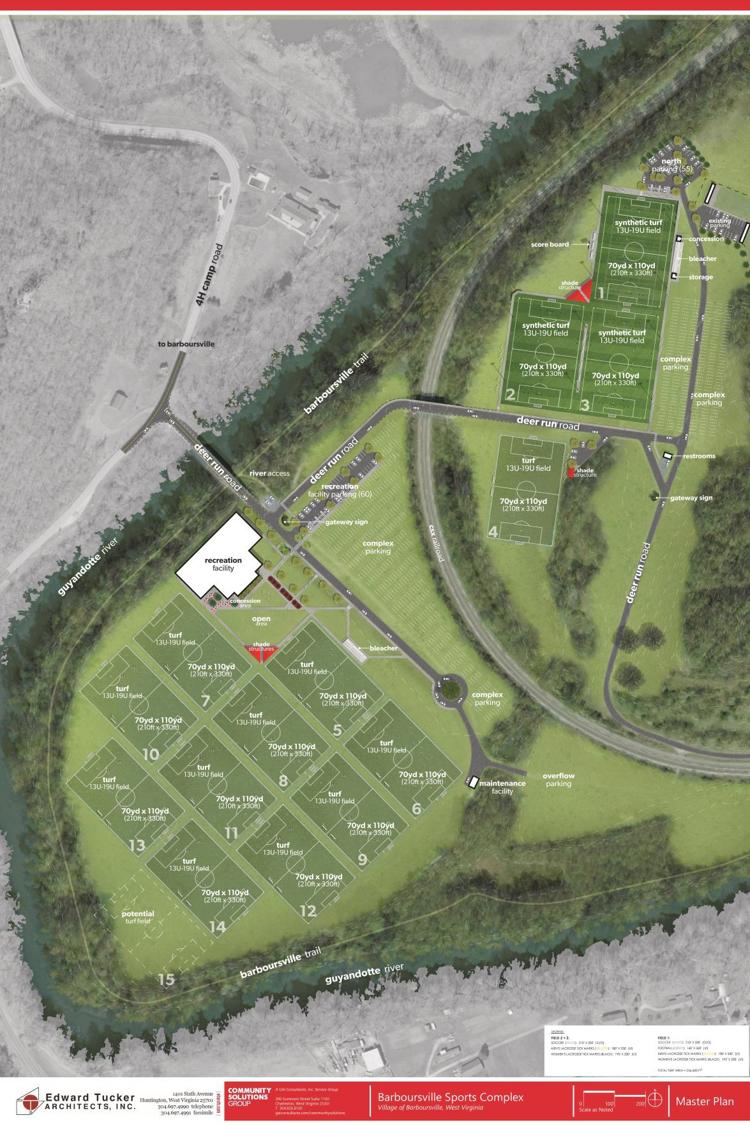 BARBOURSVILLE — Hoping to capitalize on the increasingly growing sports tourism industry, the village of Barboursville will invest $1.8 million toward building a long planned multi-sports complex.
During a regular meeting last week, Barboursville Village Council members approved the first phase of the project, which includes bringing synthetic turf, lighting and other improvements to the village's Soccer Complex this year.
This phase will transform those fields, located along Deer Run Road, into a planned outdoor facility that can be converted for soccer, football, lacrosse and baseball/softball. A 60,000-square-foot indoor facility is planned for an eventual phase two of the project, which could include batting cages, volleyball courts and indoor fields.
A multi-use sports complex has been a goal for many of the village's administrations over the years, but became more of a priority in recent years thanks to the success in hosting several national youth soccer tournaments, said Mayor Chris Tatum.
"In 2009, when travel soccer began coming through our town here, they realized what a tax benefit that was to B&O taxes, the hotel and motel tax and from having all those people in town," Tatum said. "You have hotel rooms full from Clendenin (in Kanawha County, West Virginia) to below Grayson (Kentucky)."
During the 2019 US Youth Soccer Eastern Regional Championships, 225 state champion teams from 13 states came to the area to compete for a chance to participate in the national tournament. Some families stayed in hotels as far away as Chapmanville, West Virginia, which illustrates the economic benefit these tournaments bring to the region, he said.
"Those tax dollars help us to be able to do some really unique things for our residents when the soccer tournaments are not going on," he said. "We've been able to build a farmers market, we've been able to start another festival or two, and we've been able to start a Christmas lighting tour, which will continue to grow."
A multi-use sports complex became more of a reality thanks to the village's successful application to the West Virginia Municipal Home Rule Program last year. The program allows approved municipalities to pass laws without regard to state law, but with some restrictions.
Barboursville predicated its application into the Home Rule Program on the planned expansion of recreation and on infrastructure improvements, Tatum said. A goal now is to tap into the height of sports tourism, which has become a $9 billion industry nationwide, he said.
"We've already determined that we can share in that," he said. "In staying current in improving our facilities, we can continue to do that for years to come."
Funding for the first phase of the project will come partly from the village's general fund and partly from an excess levy that is approved by voters every five years, most recently in 2016. The levy, created in 1953, sets aside money for a planned recreation center.
Depending on the success of the first phase of the project, the village will pursue funding options, like revenue bonds, to finance phase two, he said. Phase two includes a planned indoor facility located nearby the already-existing soccer fields. This facility could hold batting cages, fields, courts, and spaces to rent for birthday parties and trade shows.
A multi-use sports complex has been a goal for many decades, originally envisioned as a YMCA-style facility, Tatum said. However, that vision changed over the years with a goal not to compete with gyms and recreation centers in the area.
"This project has been a long time coming, and I think this furthers our commitment to not only our youth, but to our citizens," Tatum said. "This facility, as it continues to develop over the next few years, will be something that all of our residents will be proud of and something that everyone can utilize."