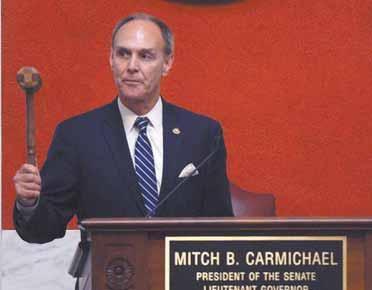 CHARLESTON — West Virginia Senate Democrats and two Republicans refused Saturday to allow the Republican majority to pass the new, sweeping education overhaul bill out of the Senate in one day.
A final vote on the Student Success Act, now numbered Senate Bill 1039, and an accompanying non-public school vouchers bill, Senate Bill 1040, could now come Sunday, June 2, when the Senate will reconvene at 2 p.m. But Democrats could stop the final vote from happening until Monday, June 3.
The Student Success Act would, among many other things, legalize charter schools, raise public school worker pay and lower the amount of daily instructional time students are currently guaranteed.
Sens. Craig Blair, R-Berkeley, and Greg Boso, R-Nicholas, also revealed Saturday that they plan to introduce Sunday a resolution to put before voters a proposed state constitutional amendment.
If voters approve the amendment, they said it would allow the state Legislature to amend and outright reject policies that the state Board of Education passes.
Currently, the constitution and past state Supreme Court rulings give the state school board significant power over education — possibly including the ability to ignore many of the laws the Legislature
has passed or could pass.
Blair noted that the board is unelected — it's comprised of gubernatorial appointees confirmed by senators. He said the amendment would mean that if a policy "is not a good idea, then we're able to stop it, push back and prevent some of the chaos that we're dealing with."
Blair — just before he discussed this proposed amendment, and in the same Senate floor speech — asked the board to email every education employee with the common "@k12.wv.us" email address to tell them what's in the Student Success Act.
"So that they don't have to rely on social media and slanted press and all of the other stuff that's out there that's giving disinformation," he said.
Senate Republicans, most of whom held firm behind the last omnibus education bill before the House of Delegates killed it in February, likely still have the votes to pass the Student Success Act out of the Senate.
But Senate President Mitch Carmichael, R-Jackson, had said he wanted Democrats to agree Saturday to waive a state constitutional rule that says bills must be read on three separate days during a legislative session before a final vote can be held.
A bill can pass on a final vote with a simple majority, but it takes four-fifths of all senators agreeing to waive the three days rule.
None of the 13 Senate Democrats in attendance Saturday — Sen. Robert Plymale, D-Wayne, was absent — voted to suspend the rule, and Republican Sens. Bill Hamilton and Kenny Mann sided with the Democrats. Hamilton, R-Upshur, and Mann, R-Monroe, also defected during the regular legislative session to vote against the last omnibus education bill that their GOP colleagues pushed.
All other Republicans voted to suspend the rule, for a total of 18 votes for suspension, not even close to the needed 80% of senators.
Carmichael released a draft of the bill May 24, but only officially introduced it Saturday, when he called for the Senate to reconvene the special session. He released a draft of the vouchers bill Wednesday.
The Student Success Act has seen some changes since Carmichael released the draft.
Gone is a provision that would've withheld pay for school workers when strikes succeed in shuttering schools.
Also gone is a section that would've allowed counties to raise their regular levy property tax rates that support schools if a majority of their voters agreed. This would have resembled how counties can currently put excess levy tax rate increases before voters.
A new provision that's been added to the bill: school systems would no longer be required to seek the arrest of parents when their child reaches 10 unexcused absences. That change isn't noted with a strike-through or underline, the way proposed law changes are supposed to be displayed.
Senate Minority Leader Roman Prezioso, D-Marion, said he was trying to negotiate with Carmichael for more changes to the bill in exchange for suspending the rule, but "we just ran out of time."
"We were up until last night talking to each other," Prezioso said Saturday. "Mitch and I talked this morning and we were just exhausted then."
Prezioso said, "We thought we were making strides, but when you go back to your respective caucuses, that's a lot of times where things break down." He said Democrats wanted more services and staff to help students with the issues they face outside of school and which can harm academic achievement, but that required time-consuming things like adjusting budgets.
Carmichael said of Democrats that "as one wants to be an obstructionist, they can come here and be obstructionist. We will continue the march toward student success in West Virginia."