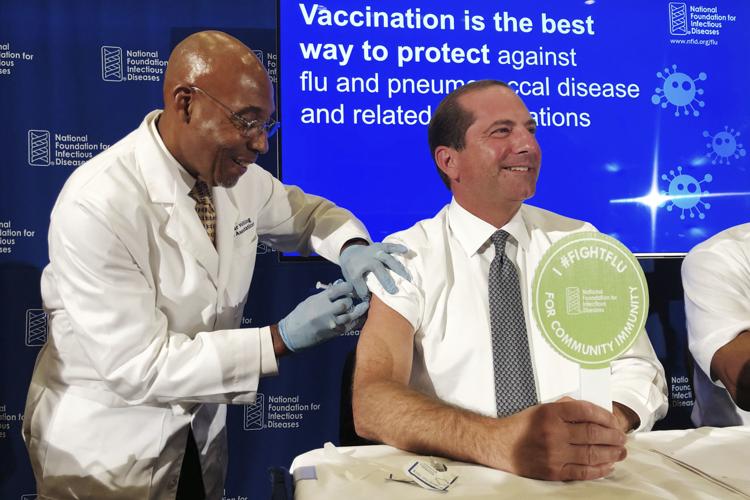 WASHINGTON — The flu forecast is cloudy and it's too soon to know if the U.S. is in for a third miserable season in a row, but health officials said this week not to delay vaccination.
While the vaccine didn't offer much protection the past two years, specialists have fine-tuned the recipe in hopes it will better counter a nasty strain this time around.
"Getting vaccinated is going to be the best way to prevent whatever happens," Dr. Daniel Jernigan, flu chief at the Centers for Disease Control and Prevention, told The Associated Press.
Last year's flu brought double trouble: A new strain started a second wave of illnesses just as the first was winding down, making for one of the longest influenza seasons on record. The year before that marked flu's highest death toll in recent decades.
Kentucky's Department for Public Health says the official flu season begins Sept. 29 and runs through May 16, 2020.
But so far, it doesn't look like the flu season is getting an early start, Jernigan said. The CDC urges people to get their flu vaccine by the end of October. Typically flu starts widely circulating in November or December, and peaks by February.
Vaccinations remain at full strength for about six months and will cover an individual for around nine months, Kathleen Napier, Cabell-Huntington Health Department director of nursing, previously told The Herald-Dispatch. This means a shot received in September would be at full strength at the region's general peak for the flu around late January through February, while remaining viable well into spring.
"Painless," Health and Human Services Secretary Alex Azar pronounced after getting his own flu shot at a news conference Thursday.
If people shrug at the risk, "it's not just about you," Azar said. "Vaccinating yourself may also protect people around you," such as how newborns have some flu protection if their mothers were vaccinated during pregnancy.
Scientists are hunting for better flu vaccines, and the Trump administration last week urged a renewed effort to modernize production. Most of today's vaccine is produced by growing flu virus in chicken eggs, a 70-year-old technology with some flaws. It takes too long to brew new doses if a surprise strain pops up. And intriguingly, newer production techniques just might boost effectiveness.
For now, people who get vaccinated and still get sick can expect a milder illness — and a lower risk of pneumonia, hospitalization or death, stressed Dr. William Schaffner of Vanderbilt University and the National Foundation for Infectious Diseases.
He's been known to tell such patients, "I'm always glad to see you're still here to complain."
The Cabell-Huntington Health Department hosted its first flu clinic Friday, and will continue to offer clinics regularly. Beginning Monday, Sept. 30, flu shots are available at the Cabell-Huntington Health Department from 8 a.m. to 5 p.m. Mondays and from 8 a.m. to 3 p.m. Tuesday through Friday.
Other clinics include:
8 to 10 a.m. Oct. 1, Huntington DMV
Noon to 3 p.m. Oct. 7, Cabell County Courthouse/City of Huntington
9 to 11 a.m. Oct. 9, West End Library
1 to 3 p.m. Oct. 9, Gallaher Library
1 to 3 p.m. Oct. 10, Cox Landing Library
9 to 11 a.m. Oct. 10, Guyandotte Library
1 to 3 p.m. Oct. 16, Milton Library
9 to 11 a.m. Oct. 16, Salt Rock Library
12:30 to 2:30 p.m. Oct. 17, Barboursville Senior Center
9 to 11 a.m. Oct. 17, Milton City Hall
1 to 3 p.m. Oct. 21, Barboursville Library
9 to 11 a.m. Oct. 29, Main Library (Downtown)
No appointment is necessary for these free clinics. All efforts will be made to accommodate all individuals in the family, so attendance at multiple clinics is not necessary. Those who have internet access can print and complete the registration form in advance at www.cabellhealth.org.