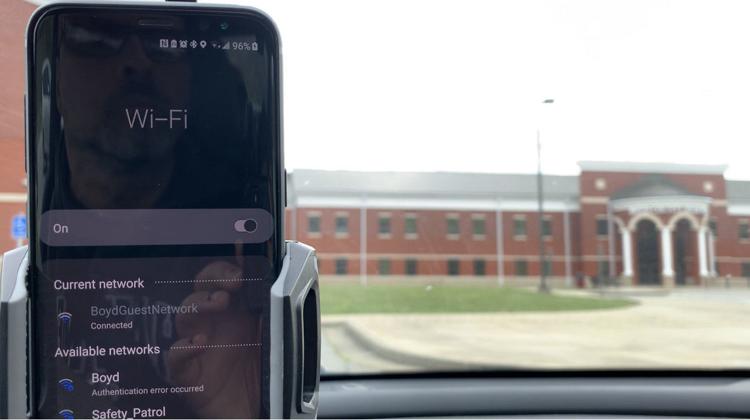 ASHLAND — Schools transitioned online as COVID-19 cases across the nation rose, but for some students in the Tri-State, the transition didn't come without trouble.
For many rural students, the difference between graduating this year is Wi-Fi connection. This has educators and administrators scrambling.
Emma Fowler, guardian of Boyd County Central senior Cheyenne McWhorter, says getting school work completed in an online setting is nearly impossible.
"The internet out here is extremely slow, so when Cheyenne is trying to do her work on the laptop, it just won't load," Fowler said.
Local solutions
As students grapple with how they will be able to attend class and meet deadlines in this new normal, educators like Spanish professor Tim Mollet, of Ohio University Southern, are trying to get creative.
"I've even considered snail mail," Mollet said.
Schools like Ohio University Southern and Boyd County High School are offering up their parking lots as a temporary solution.
Hot spots with extended range are being used in the school parking lots to service students without internet access. Students can park in the parking lot of Boyd County High School from 7 a.m. to 8 p.m. each day to complete work there.
McWhorter is one of those students using the service, but Fowler says that isn't always perfect.
"We have had to take her to the high school, but even there she's had some issues with loading because others are using it, so I usually have to hotspot from my phone," said Fowler.
Students like McWhorter are in a particularly difficult position because they live just outside of the parameters of high-speed internet providers. The family relies on Windstream, the phone service company, which she says is often spotty.
Spectrum, one of four local providers, has taken the initiative to install internet for those rural K-12 and college students in need and in proximity for 60 days, free of cost.
Due to this, students have seen a considerably long wait time as Spectrum makes its rounds, according to Mollet. During the wait, assignments and deadlines pass by.
This was part of a larger initiative by FCC Chairman Ajit Pai that started as schools began to transition in early March.
But because of the Tri-State's lack of access, only one of the five providers that have pledged free service exists in the area.
That's something Mollet says educators are also trying to keep in mind.
"We've been talking about it as faculty. I'm sympathetic because in 2011 and 2012, I had dial-up. I would have to drive to school or into town to upload grades. I know it's really difficult without it. Everything is online, and now our entire lives are," Mollet said.
The bigger picture
Excluding Ashland, nearly 50% of Boyd County residents live in rural neighborhoods and locations, according to the Federal Communications Commission. In Lawrence County, 45% of the population lives in a rural area, and for Wayne County, West Virginia, 65% of residents are in rural communities.
This means a large number of students live in areas where internet and phone service connection may be substantially harder to obtain, according to Western Kentucky professor and data analysis expert Kirk Atkinson.
"The maps like the FCC has that show providers in areas make it worse for us who live in rural places. Just because a provider is there doesn't mean all the people can use it. So, these maps that say 94% of Kentuckians have service are misleading and keep solutions from coming through," Atkinson said.
Atkinson said this is because providers don't want to foot the extra bill for wiring and signals. Providers look to improve internet speeds and access in rural areas last because of the lower number of customers.
When providers feel their service coverage is sufficient, it often means inner-city residents are the ones with access, while those just a mile away may not get it, despite being counted as having it due to "proximity," said Atkinson.
This problem isn't exclusive to the Tri-State, but Kentucky, West Virginia and Ohio see some of the worst of it.
In 2017, Kentucky and West Virginia ranked in the bottom five of the 50 states and Washington, D.C., in broadband speeds and capacity, with Kentucky at 47th and West Virginia ranking at 46th.
Broadband is the high-speed transfer of data used to carry the internet to homes, meaning in the Tri-State, internet is slower than it is in 45 of the 50 states, and the states' capacity to use high-speed internet is lower than most.
Ohio was slightly better than Kentucky and West Virginia in ranking, coming in at 36th, in the bottom 15 of states.
Understanding the digital divide
The connection between states with large rural populations and lack of internet access is known as the digital divide, and its effects extend beyond internet connection.
The issue at heart is access, which affects residents in the divide's ability to compete with those who enjoy constant connection.
Poverty is often connected to states with low internet access, a connection that is exemplified through states like Kentucky and West Virginia.
According to a study by the Investigative Reporting Workshop in 2012, lowest median income and lowest internet subscription rates were almost always connected. The states that ranked in the bottom 10 for internet subscription also ranked in the bottom 10 for income.
One of the bottom five states the study noted was West Virginia, which was at 46th for internet access and 49th for median household income, with $40,824.
This issue, Mollet said, is the perfect example of the divide at work.
"In this time, how are students supposed to grow in the same way that someone who has internet access could grow? Now when we talk about 'haves' and 'have-nots' it's not about money — it's about access," Mollet said.
In a pandemic, the digital divide could be the very difference between who can apply to college in this time without in-person counselors and who cannot.
On the horizon
Hope comes in the form of a changed conversation that encourages those without the internet to bridge the gap, says Atkinson.
"A few years ago, older generations would ask me, 'Well, what could I use (the internet) for?' You're going to have to empower those locals," said Atkinson.
One part of the solution has already begun. An initiative by Kentucky Wired to install five rings of fiber-optic cables of high-speed internet across the state is already underway and 83% finished, according to their website.
But, Atkinson says, without encouragement of those without internet, simply expanding broadband's capacity is not enough.
While advocates like Atkinson continue to expand the conversation, rural students can trust that Tri-State educators are sensitive to their struggle.
"I'm considering opening back up assignments students missed during finals times and seeing what can be done over a phone call. I want to make sure everyone has the same opportunities," Mollet said.