AG tries to skip intermediate court in non-public school vouchers case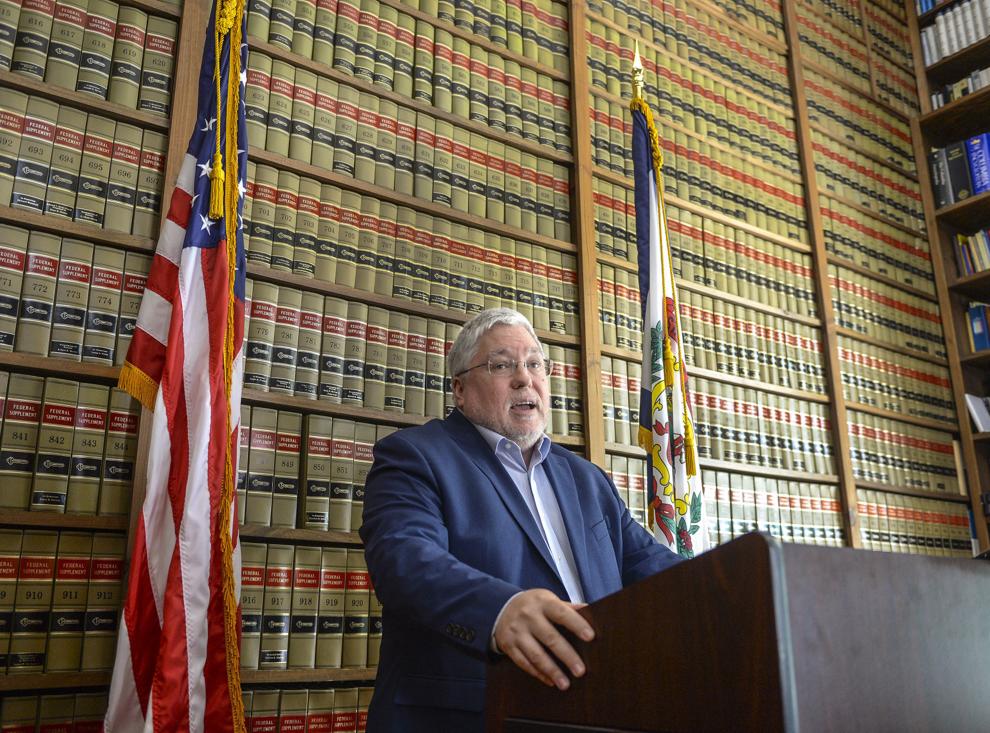 CHARLESTON — In the ongoing non-public school vouchers case, Attorney General Patrick Morrisey is now trying to skip West Virginia's new Intermediate Court of Appeals.
This is the court's first case. Critics of the new body said it would bog down litigation, but Republicans passed it into law in 2021, with some Senate Democrats supporting them.
Last month, Kanawha County Circuit Court Judge Joanna Tabit struck down the sweeping vouchers program. Parents had previously been set to start receiving the money, about $4,300 per participating child per year, by Aug. 15.
Morrisey, a Republican, asked the Intermediate Court of Appeals to quickly lift Tabit's block on the program, at least while Morrisey's office appealed to the new court to overturn Tabit's full ruling against the vouchers.
On Tuesday, the Intermediate Court rejected that request to "stay" Tabit's ruling during the appeal. 
Next, Morrisey and two mothers who say they want the vouchers asked the state Supreme Court for a stay. But Morrisey went further Thursday, asking the Supreme Court to also go ahead and hear the full appeal, skipping the Intermediate Court.
"The clock continues to tick down on these families," his office wrote in the filing. "In circumstances like these, this Court should undertake direct review and hear this case without forcing it to work its way through an additional layer of appellate review.
"Given that even fast appellate litigation will create hardship for the thousands of West Virginia students stuck waiting in the meantime, the Court should exercise its discretionary power to hear the case, on the merits, now," his office wrote. "It is within this Court's authority to take up the appeal and resolve it in time for families across the State to get at least some of the scholarship funds the Hope Scholarship Act promised this school year. The State respectfully urges that it should."
The program, called the Hope Scholarship, was essentially open to all rising kindergartners whose parents diverted them from public schools and to all older students already in public schools whose families chose to withdraw them.
The number of children set to participate next school year was somewhere between 2,000 and 4,000, with different numbers coming from different state agencies. Parents could have used the $4,300 per kid for a range of private- and home-school options.
"The second half of scholarship funds are due by statute in a little over five months, on January 15," Morrisey's office wrote. "Five months is long enough to resolve one appeal. It would be a stretch to resolve two. Nor does expedited briefing in the Intermediate Court of Appeals negate the need for direct review. Last night — 14 days after the State sought a stay and seven days after it noticed its appeal — that court issued an 'Expedited Scheduling Order' with briefing set to conclude on Sept. 26. The order did not say whether the court expects to hear argument in the case, much less set a date for argument."
His office also expressed concern that a possible legal jurisdiction issue could set up "another three appeals," with the three stressed in italics, because it would again go through the Intermediate Court.
In January, three West Virginia public school parents — one has since dropped out of the case — sued Republican Gov. Jim Justice, Republican state Treasurer Riley Moore, the leaders of the Republican legislative supermajorities that created the program, then-state Board of Education president Miller Hall and state schools Superintendent Clayton Burch to stop the program.
Partway through the litigation, Hall and Burch took the public school parents' side against the program.
Tamerlin Godley, a Los Angeles-based attorney representing the anti-voucher parents, spoke to HD Media on Thursday before Morrisey's attempt to skip the Intermediate Court was known. She had seen his request to the high court for just the stay, and said she still needed to examine whether the attorney general's request for that was procedurally allowable.
"The trial court denied the stay. The intermediate appellate court denied a stay. I'm not sure they even have the right to go to the Supreme Court at this point to try, yet again, a third time, for a stay," Godley said. She compared it to saying, "Mom said no. Let's ask Dad."
Morrisey's filing requesting the stay — his office released it in a news release, but the Supreme Court didn't provide it Thursday — accuses Godley's side of "strategic delays" in filing the suit. Godley rebutted that and added that "the state should have been letting parents know that this was subject to litigation and there was a high risk that they would not be receiving money for this year."
Article 12 of the state constitution says "the Legislature shall provide, by general law, for a thorough and efficient system of free schools."
Godley and her fellow attorneys argued the program is unconstitutional for several reasons. Among them: The vouchers divert public funds that could otherwise be used for public education toward the private- or home-schooling alternatives participating parents choose.
The state funding formula for county public school systems is largely based on how many students enroll in public schools in those counties. That means vouchers that newly enable or incentivize families to pull their children from public classrooms would automatically reduce public education funding.
Morrisey's office argued the harm from that is conjectural.
"Respondents' theory is necessarily indirect: The Act might encourage other students to leave their children's public schools, which might lead to a significant drop in enrollment, which might eventually cause decreased state public-school funding (at least under existing formulas), which might be large enough for their particular schools' funding to slip below adequate levels, which the Legislature might fail to correct through new appropriations, and which might then hurt their children should they remain in public schools," the office wrote.
The office wrote that "schools' numbers fluctuate for many reasons, after all."
"West Virginia's have been declining for some time, yet no one suggests these fluctuations create a constitutional injury," the office wrote. "And even if Respondents could show that those Hope Scholarships spur are different, all that might prove is that the funding structure might become inadequate. It would say nothing about the Act's legality. If the existing funding formula were to fail — for any combination of factors — then the Legislature would be duty-bound to come up with something else."
The office also wrote that any public education funding reduction wouldn't be imminent because public school funding is based on the prior year's enrollment numbers. But that means students dropping out of public schools this fall, when the state does the count, would reduce funding for next school year.
Ryan Quinn covers education for the Charleston Gazette-Mail. He can be reached at 304-348-1254 or ryan.quinn@hdmediallc.com. Follow @RyanEQuinn on Twitter.