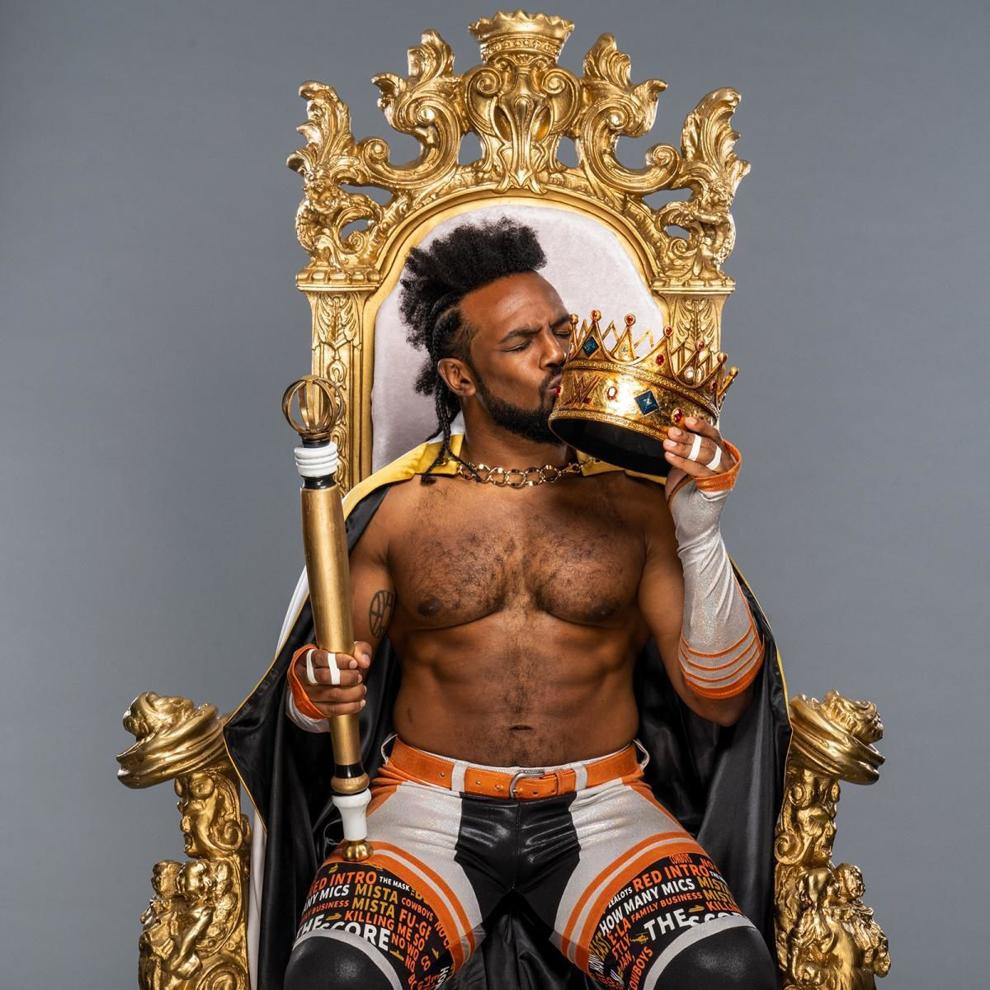 CHARLESTON — The hardest part about returning to live professional wrestling for King Woods was that when he was finally able to step back in the ring, there was no crowd.
Woods said, "When there are no fans, there's no adrenaline pumping through your body. You notice the pain a lot more."
The superstars of the WWE are hoping for a big crowd Sunday night at the Charleston Coliseum when the WWE Supershow rolls into town.
The recently crowned "King of the Ring" will be there, along with Roman Reigns, Becky Lynch, Big E, Charlotte Flair and many others. The show is part of the early holiday push for WWE and the start of a busy winter season.
Woods said he was glad to be out in front of crowds again. He had a different view of the pandemic than some of his peers. When COVID-19 hit, Woods was already sidelined because of an injury.
"I tore my Achilles tendon in October of 2019," the 35-year-old said. "When everything hit, I was doing my video game stuff and going to conventions."
He laughed and said, "I was doing cosplay while getting around on a little scooter."
Professional wrestling during the pandemic barely paused. WWE operated under strict protocols and taped its shows inside of empty arenas for months before resuming what appears to be mostly back to normal.
But Woods said it was interesting to watch what it all looked like from a distance. He returned to the ring in September 2020, with no fans in attendance.
"It was very weird," he said. "Fans are such a big part of our show. Sometimes, people think they're buying a ticket to come hang out. No, you're buying a ticket to participate."
Having the fans back, he said, was like flipping a switch. Suddenly, there was a lot more power in the room. Wrestling was just a lot more fun.
Fun is a big part of who Woods is. He sees himself as a kind of beacon for people, particularly children, who love pop culture, particularly the nerdier parts of it. He's hosted video game shows and is a host on G4. He loves anime and old board games, plays Dungeons & Dragons, and is an unabashed fan of "The Golden Girls."
"I have a mural of Blanche painted on a wall in my house," he said. "I have a Golden Girls shrine. I just love them."
Seriously.
Woods said he got to meet Marsha Posner Williams, who co-produced 76 episodes of "The Golden Girls."
"She was just the kindest and hilarious," he said. "I can't imagine what it was like to be part of something like that."
The WWE superstar said the old sitcom still holds up, and it's even instructional for performers like him, who are interested in how comedic chemistry works.
It's OK to like "The Golden Girls," Woods said. It's OK to like video games, cartoons and a thousand other things that other people think are silly.
"I have so many friends who let go of wrestling or let go of cartoons," he said. "They let go of the things they really enjoyed, and then you get to be 30 or 40 and you feel like you're not as happy as you used to be."
Letting go of the little things that make you happy isn't growing up, so much as giving up on a part of yourself.
Woods said as long as what you love doesn't hurt anyone, you shouldn't feel a need to quit your passions just because other people don't get it.
Part of his role, he thought, was to be a kind of example for others. Woods wants to be a public figure who has no qualms about being who he is, which is a bit nerdy, but still authentically himself.
Maybe that would encourage others to do the same.
Woods said eventually he'd leave wrestling and spend more of his time with his other passions, like video games, but not just yet.
Recently, he captured the "King of the Ring" title, but that was only the start. He planned to go after the other championships.
"Now, we use the power of the crown to get even more shiny things," he said.