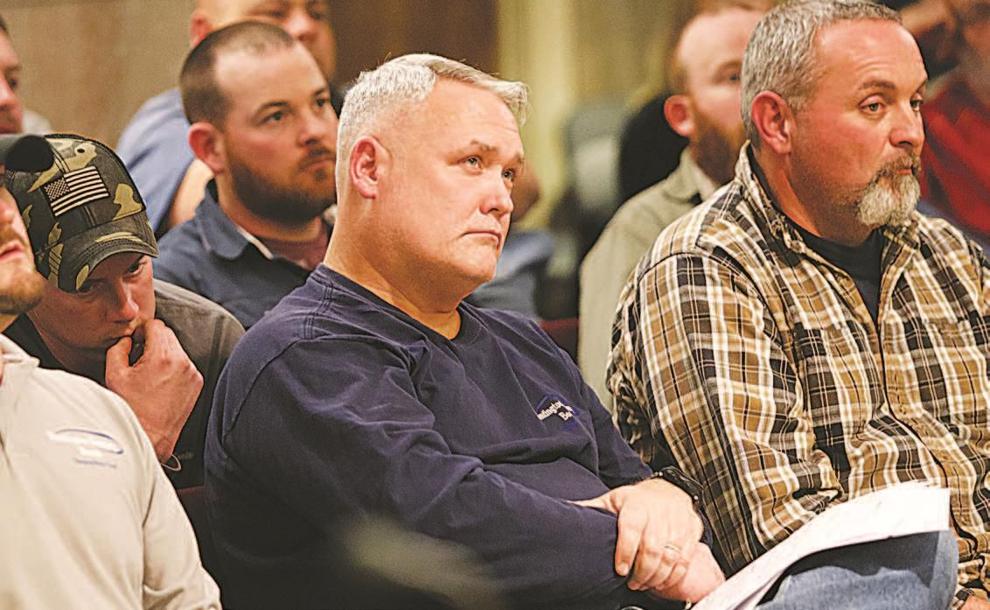 HUNTINGTON — The city of Huntington's Finance Committee gave a proposed sewer rate increase its stamp of approval Wednesday night, voting in favor of sending it back to council with no changes and a positive recommendation.
Having made no alterations, the ordinance will go back before City Council for a second reading Dec. 27, when it will be voted on by council members.
While the ordinance had the support of the Finance Committee and over a dozen employees with the Huntington Sanitary Board, others from the public questioned if the proposed increase of about 57 percent over three years was necessary.
The proposed ordinance, which originated from the Huntington Sanitary Board, lays out three phases of increases spread out over three years.
The first increase would occur 45 days after the passage of the ordinance, which will be toward the beginning of February if City Council approves it. This would increase a customer's average bill — which is based on about 3,200 gallons of water used — from $17.37 to $21.90 per month. The minimum monthly bill, which is based on 2,000 gallons of water used, would go from $13.16 to $16.60.
The next increase proposed in the ordinance would be scheduled for Dec. 31, 2017. Minimum bills for residents would be $18.50 and the average bill would be $24.35.
The final increase would occur Dec. 31, 2018, and would raise the minimum monthly bill to $20.80 and the average to $27.39. The last sewer rate increase, a 23 percent hike, came in June 2009.
From start to finish, an average customer would see an increase of about $10; however, as Steel of West Virginia Vice President of Administration John O'Connor pointed out during the meeting, the increase in costs for businesses is much higher.
O'Connor said the company, which provides about 560 jobs, currently pays about $500,000 yearly in sewer rates, but the proposed rate increases would raise their bill by $300,000 by the end of the final phase, placing a burden on the company's ability to be profitable.
"Our problem is we can't just pass these costs around," he said. "We're competing internationally for work, and it's hard to get any increases out of our customers."
O'Connor urged the committee to take more time to examine and explain the budget fully.
"I think you need to understand all the costs and justify why a 57 percent (increase) is needed on the back of your businesses and customers," he said.
O'Connor wasn't the only person who voiced an opinion at Wednesday's meeting. American Federation of State, County and Municipal Employees Local Union 598 President and Sanitary Board employee Lee Adams said he was fearful of what would happen to his co-workers if the rate increase wasn't approved.
"We are at a point now where we can't kick the can down the road anymore," Adams, a Sanitary Board employee of 15 years, said. "We are at a point now where our equipment is at an end-of-lifespan cycle. Our system is in dire need of repairs."
Adams said the Sanitary Board has about 37 employees but had about 50 employees when he started.
For the 2016 fiscal year that ended June 30, 2016, the Huntington Sanitary Board's budget was just under $12.3 million. With the proposed increase, the Sanitary Board is expected to grow its budget by about $6.5 million over the course of three years. The Sanitary Board's budget is solely supplemented by sanitary fees.
When this ordinance was originally compiled, city officials said the rate hike was necessary to address projected increases in operating and maintenance costs.
The increases, which have mainly been caused by increases in health insurance and sludge removal costs, caused the Sanitary Board to end the 2016 fiscal year at a structural deficit of $234,566, according to documents provided by the city.
In the current fiscal year, ending June 30, 2017, insurance costs are expected to be $400,000 more than anticipated and sludge removal costs will reach a high of $718,000, more than $450,000 over budget.
While the Sanitary Board's budget is projected to increase by about $6.5 million with the proposed rate hike, its operation and maintenance expenses only increase by about $2.7 million, from just under $10.4 million to $13.1 million. The remaining $5.7 million is split between debt service requirements — about $3.2 million — and cash available for capital improvements and contingencies — about $2.5 million.
Michael Griffith, a certified public accountant with Griffith and Associates, said the increase in the debt service requirements, more specifically the sewer principal interest from about $1.3 million in 2016 to $2.75 million in 2018, is due to an anticipated closure on a $7.5 million, 20-year loan at 4.5 percent interest.
Griffith said the money is needed to cover nine capital improvement projects identified by engineers with Potesta & Associates. The projects range from improving ventilation at the treatment plant to upgrades to the 5th Avenue Pump Station and cleaning out an 18,500-foot interceptor pipe along the 4th Street Pump Station.
Potesta originally identified more than $75 million in needed capital projects, but Pat Taylor, a senior engineer with Potesta, said the new list of projects demonstrated improvements that are needed to keep up with day-to-day operations as well as comply with West Virginia Department of Environmental Protection regulations.
Robert Rodecker, an attorney representing the Sanitary Board, said the proposed projects are seen to be in the "ordinary course of business" and therefore do not require the 30-day notice typically required of capital projects.