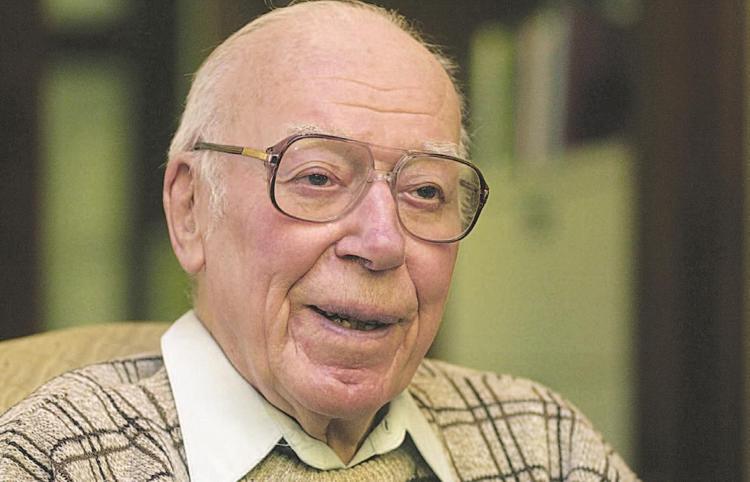 ROMNEY, W.Va. — Former U.S. Congressman and West Virginia Secretary of State Ken Hechler will lie in repose next week on the capitol grounds where he served the Mountain State for more than a decade in one of many public offices he held in his lifetime.
Hechler died peacefully after having dinner Saturday, at age 102, at his home in Romney, West Virginia.
Hechler will lie in repose from 10 a.m. to 3 p.m. Monday, Dec. 19, at the Culture Center at the West Virginia Capitol Complex, 1900 Kanawha Blvd. East, Charleston, followed by a service at the Culture Center at 3 p.m., according to his obituary from Giffin Funeral Home & Crematory in Capon Bridge, West Virginia. His family will receive friends from 4 to 8 p.m. Wednesday, Dec. 21, at the Giffin Funeral Home & Crematory.
A service in Hampshire County will take place at 11 a.m. Thursday, Dec. 22, at the Augusta Church of Christ, 15338 Northwestern Pike, Augusta, West Virginia. Burial will follow at Branch Mountain United Methodist Cemetery in Three Churches, West Virginia.
In lieu of flowers, Hechler's family has requested that contributions be made to either Hospice of the Panhandle, 330 Hospice Lane, Kearneysville, WV 25430, or the Ken Hechler Scholarship Fund, C/O The Bank of Romney, P.O. Box 876, Romney, WV 26757.
Hechler's life spanned more than a century, and his political career spanned decades. He spent many of those years as an activist, soldier, teacher and author. He worked for three U.S. presidents, interrogated Nazis in World War II and was the only
sitting congressman to march with Martin Luther King Jr. in Alabama.
During his nine terms in Congress, he championed civil rights legislation while fighting for coal mine safety, strip mine regulations and black lung compensation.
He found love late in life, marrying Carol Hechler at the age of 99.
A New York native, Hechler was educated at Swarthmore College and Columbia University before serving as a U.S. Army combat historian during World War II. He served in the 9th Armored Division. He helped chronicle the 1944 invasion of Normady, the liberation of France, Battle of the Budge, experiences that inspired his book "The Bridge at Remagen," which was turned into a movie in 1960. He went on to write eight other books.
He served in the Truman administration as a speechwriter and other positions in Washington.
Entrusted with a doctorate from Columbia University, he devoted a considerable amount of his career to teaching, starting in 1957 at Marshall University as a political science professor, where he spent a semester before starting his campaign. He had discovered Huntington while helping arrange a train trip through town by President Harry S. Truman.
Alongside Hechler, former Huntington Mayor Bobby Nelson also campaigned for President John F. Kennedy as he visited Huntington in 1960. Marshall did not allow political events on campus at the time, so instead, Kennedy pulled alongside 3rd Avenue — technically off campus — in a makeshift campaign event, Nelson told The Herald-Dispatch on Sunday.
Hechler was photographed with Kennedy in a booth at Jim's Steak and Spaghetti House, an image that has become iconic.
In between two stints as a professor at Marshall, Hechler walked the halls of Congress as a Democrat in the House of Representatives from 1958 until 1977 and was West Virginia secretary of state from 1984 to 2001. He donated his congressional papers to the university's archives.
He was the only member of Congress to march with King at Selma, Alabama.
"You are part of history. Always remember what you were doing on March 21, 1965," Hechler said King told him after the two met before the march.
He also was the principal author of the Coal Mine Safety and Health Act of 1969 after a failed bid for the U.S. Senate. Continuing his legacy, in 2009 Hechler was arrested with 29 others while protesting mountain top removal mining near Marsh Fork Elementary School in Boone County.
"Some of these things you fight for might not come to a conclusion, but it is worth the fight," Hechler said in a 1998 interview.
Hechler's complete obituary can be found at www.giffinfuneralhome.com.