HUNTINGTON — Brad D. Smith said he still wears his Marshall University class ring.
The Wing 2 Wing Foundation co-founder said his experience at the university made him who he is today. Smith, an alumnus of Marshall and a native of nearby Kenova, is one of five finalists in the university's presidential search that began after current Marshall President Jerome Gilbert announced in the spring that he would not seek an extension of his contract, which expires in July.
As part of the search process, Smith will visit the university's Huntington and South Charleston campuses Tuesday, Oct. 12, and Wednesday, Oct. 13.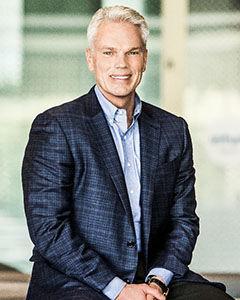 "It's personal for me. It's a combination of a purpose and my ability to pay it forward," Smith said of why he wanted to apply for the position.
The remaining finalists to visit are Bernard Arulanandam, vice president for research, economic development and knowledge enterprise at the University of Texas at San Antonio; Bret Danilowicz, provost and vice president for academic affairs, Florida Atlantic University; and Kathy Johnson, executive vice chancellor and chief academic officer, Indiana University-Purdue University Indianapolis. Robyn Hannigan, provost at Clarkson University, began her campus visits Monday and will finish today. Finalists are expected to conclude their visits Oct. 19.
In the years since his graduation, Smith has continued his support for Marshall through donations to support the university. The Brad D. Smith Business Incubator and the Brad D. Smith Schools of Business bear his name.
In the business world, Smith is currently the board chairman of Intuit. He previously served as the company's CEO until he stepped down from the position in 2019.
"Brad Smith has been an outstanding leader for Intuit over the last 11 years," Suzanne Nora Johnson, lead independent director of Intuit's Board of Directors, said in a statement about Smith's transition. "He has transformed Intuit from a North American desktop software company into a global cloud-driven product and platform company. Under his leadership, Intuit has accelerated growth in customers, revenue and profit while establishing a durable foundation for continued success long into the future."
Smith's ties to Marshall are evident throughout his life. He remembers seeing the 1970 plane crash that killed the university's football team, its coaching staff and fans who were aboard the flight. He later attended Marshall and graduated in 1986 with a bachelor's degree in business administration. Among his favorite memories from his undergraduate years is Marshall football's first winning season since the crash, he said.
Smith completed his master's degree at Aquinas College in 1991. He said he wrote about his desire to give back to West Virginia in his thesis.
"I said that I knew one day that I would return home to West Virginia to reinvest in those who invested in me," Smith said.
Smith said he wasn't sure what his homecoming would look like at the time, but he's considered it in the years since. Though he built his career in Silicon Valley, he still has connections to the Mountain State. He frequently visits West Virginia, as he has family who are residents and he and his wife bought a property in the state a few years ago.
Of the five finalists, Smith is the only one up for consideration with a background outside of academia. But American colleges with a leader who comes from a non-traditional academic background has become trend in recent years. In a 2015 article, The Atlantic reported on a few business executives who became college presidents, as well as presidents who have a background in government and law. The article said that 20% of U.S. college presidents came from non-academic fields in 2012.
"I'll have a steep learning curve, as anyone who steps into a new role has," Smith said. "And I will also tell you that I fully appreciate what I don't know."
If he became the president, it would be important to have an empowered provost and to rely on the deans and the faculty senate, Smith said. He equated the situation to his experience in Silicon Valley. While he led a technology company, he has never written a line of code. The engineers are like the faculty of the software world, Smith said, adding that they "helped me understand that my role was to help them craft a vision that we can all sign up for."
Before applying for the position, Smith said he spoke with over a dozen former and current university presidents and asked them about leading an academic institution. He said his questions included if they thought he was a viable candidate and where presidents can add the greatest value. He said answers included that presidents can be a transformational change agent as higher education changes to adapt and he could bring those skills to the role by relying on the assets found in a provost, the Faculty Senate and the deans. Another answer was that 50% of a president's time should be invested externally, which includes engaging with people like state legislators to ensure higher education appropriations are "equitable, fair and performance-based."
"I'm excited that our state is looking at benchmarks in other parts of the country to say how do we have a very fair and accurate performance-based process so that we ensure that we're investing in our future," Smith said.
He would also foster community relationships at the local level within Huntington as Marshall's president. Smith added that he recognizes it would be critical to work with the southern part of West Virginia and the greater Appalachian region to strengthen that part of the country. The other important relationships that Smith describes would be between the university and its alumni and between the university's medical school, Marshall Health and athletic programs and the community.
"So goes Marshall, so goes Huntington and so goes Huntington, so goes Marshall," Smith said.
Continuing to foster external partnerships is another area Smith said he is considering. He commended current President Jerry Gilbert's work in partnering with other universities to bring assets together like the aviation school. Smith said a way to go beyond that is by partnering with educational technology companies to bring more resources to the university. Marshall could also expand into tuition programs offered by companies such as Walmart, Target and Amazon for their employees to go back to school.
In his vision for Marshall, Smith wants to focus on making sure Marshall has the resources to fuel success, recruiting the next generation of students and top talent in faculty and staff, and ensuring the relevance of the university in the 21st century. He also has three areas he would prioritize as president: in-demand knowledge, on-demand access and distinctive achievement. In-demand knowledge is about aligning curriculum with what students want and what the market needs. On-demand access would include thinking about a hybrid model for online and classroom education, as well as on the employer side, he said. Distinctive achievement is about making Marshall known in the world for its unique accomplishments.
"I am understanding that coming outside of academia, I am going to have to rely on those that are from inside of academia and create the space for them to do their magical work," Smith said.
Smith sought legal counsel on whether he would be eligible to apply for the job, as he has donated to Marshall in the past, he said. Kim Weber, the executive director of the West Virginia Ethics Commission, said in an email to The Herald-Dispatch that a donor may be hired to a state university, based on two previous advisories.
When asked if he believed the Marshall Board of Governors could judge him fairly as a candidate, Smith said yes. In addition to Smith's donations, a Freedom of Information Act request recently revealed text messages sent by a few individuals, including Marshall University Board of Governors member Chris Miller, to City Council members regarding Smith's connection to a potential candidate for a council seat as the council met to select a replacement. Smith has previously stated that he was unaware of the texts until contacted by a Herald-Dispatch reporter.
"I have the utmost respect for the 16 members of the Board of Governors, and I know that they take the responsibility seriously," Smith said. He added that they all share the same goal: "We want Marshall to have the most qualified candidate to be the next president."
No matter the outcome of the search, Smith will continue to support the university in whatever way that he can. He added that he also made this clear in a previous interview in the search.
"It's a no-lose situation for me because I have supported Marshall up to this day and I'll support Marshall until my very final day, whether I'm the president or not."