HUNTINGTON — A candidate in the search for Marshall University's next president says she would like to build on the university's community relations and expand on the type of student demographic it serves.
Kathy Johnson, executive vice chancellor and chief academic officer, Indiana University-Purdue University Indianapolis (IUPUI), joins four others as finalists for the search, which was triggered by current President Jerome Gilbert's decision earlier this year to not seek a contract extension.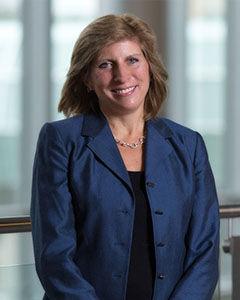 The other finalists are Bernard Arulanandam, vice president for research, economic development, and knowledge enterprise, The University of Texas at San Antonio; Bret Danilowicz, provost and vice president for academic affairs, Florida Atlantic University; Robyn Hannigan, provost, Clarkson University; and Brad D. Smith, Marshall alumnus, philanthropist and former CEO of Intuit.
Each finalist has been visiting the Huntington and South Charleston campuses to meet with members of the university community. Johnson is the third of the finalists to visit, with Arulanandam and Danilowicz remaining. Visits are scheduled to wrap up Tuesday, Oct. 19.
Johnson, who considers herself a first-generation college student because her parents pursued higher education later in their lives, grew up in Wellesley, Massachusetts, near Boston, with a younger sister.
She earned her bachelor's and master's degrees in psychology at the University of Massachusetts, Amherst. She joked that after following her now-husband to the school without knowing anything about it, the move led her to a successful career.
"I went to school planning to become a physician. I had always been interested in medicine," she said. "But I ended up taking an honors class my freshman year in child developmental psychology and just kind of fell in love with it."
She then earned her doctorate in psychology (cognition and development) at Emory University.
Johnson has served as professor of psychology and as dean of University College and associate vice chancellor for undergraduate education, where she led the creation of a Division of Undergraduate Education as well as a number of initiatives aimed at enhancing the quality of the undergraduate experience while also improving on-time graduation rates.
Trained as a cognitive developmental psychologist, Johnson has published extensively in scientific journals in areas related to expertise acquisition and conceptual development.
Johnson said she has always been content with her positions in life, but has been targeted early by those above her as a leader and pushed by her colleagues to the position she currently holds at IUPUI.
Her co-workers said she is a born leader.
Johnson said after 28 years at IUPUI she has loved building deep connections with the community and city of Indianapolis, but when her current boss announced his retirement, she decided to step away. With just one of her four children left in college, she felt it was a good time to make a move.
A friend from early in her career had taken a job at Marshall in the biology department and spoke so highly of the community, the comments stuck with Johnson for decades.
"I remember her talking about Marshall and the climate there, the culture, the friendliness, the facilities, and West Virginia, of course, is such a beautiful state," she said. "So I've always had it in the back of my mind that if a position ever came up there, I might be interested."
Stephen P. Hundley, the senior adviser to the chancellor for planning and institutional improvement at IUPUI, said by hiring Johnson, Marshall would gain a president who could collaborate well with all involved parties at the university — from board members, students and donors to faculty and staff — for the greater good of the school.
"She is genuine, she is credible with a variety of stakeholders and she is just wonderful to work with, because she gets the job done," he said. "It's a pleasure to work with her."
Marshall is poised to be a model of a research intensive university that both serves the needs of its community and offers excellent academic programs for students, Johnson said.
An expansion on recruitment from neighboring states, as well as on Marshall's international student programs, would be great, she added. Marshall having both schools of medicine and engineering puts it in a unique position to entice STEM students from those demographics, she said. She also showed excitement about Marshall's new flight school.
Johnson said IUPUI has a Carnegie designation as a community engaged campus and she believes that designation would benefit Marshall. She said students gain professional skills when they are out working on programs that help the community in which they live.
"I want the city to be an extension of every one of our students' learning experience," she said.
Johnson said her life has been focused on exercise, family and community. While that leaves her without much free time outside of work for hobbies, she loves to run and bike. Johnson and her husband are also licensed foster parents and have cared for babies over the past few years after they realized they missed having young children in their life.
"We actually got involved because we knew of families that had either succumbed to addiction or lost children to the foster care system," she said.
She would like to see Marshall increase its involvement in fighting substance use disorder, she said, such as through its addiction science program.
Hundley said Johnson has a strong set of values built around diversity, equality and inclusion, and makes sure her institution's actions are aligned with and supportive of student learning, with the faculty, staff, alumni and students all joining in on that goal.
While she sits in an administrative position at IUPUI, Hundley said Johnson leads by example and is hands-on with her position, which is what makes her so poised to become a university president.
"She makes time to teach classes, to mentor students and to engage with the student experience, and it demonstrates her commitment," he said. "It also shows leadership by example, and it gives her a sense of keeping a pulse on what's happening."
As someone who has only seen Huntington through the movie "We Are Marshall," Johnson said she's excited to see Huntington and the Marshall community in real life.
"Everything I read seems to suggest that it's beloved both for the arts and culture and the athletics that it brings," she said. "But I'd also love to hear the community's … thoughts about opportunities for growth as well, and ways that the university can help the community."
If selected, Johnson would be the first woman to lead the university.