HUNTINGTON — Stabilizing student enrollment and creating equal opportunity for a diverse student population are items Bret Danilowicz intends to prioritize if selected as Marshall University's next president.
Danilowicz, provost and vice president for academic affairs at Florida Atlantic University, is the fifth and last of the finalists scheduled to visit Marshall's campus Monday, Oct. 18, following Bernard Arulanandam, vice president for research, economic development and knowledge enterprise at the University of Texas at San Antonio; Robyn Hannigan, provost, Clarkson University; Brad D. Smith, Marshall alumnus, philanthropist and former CEO of Intuit; and Kathy Johnson, executive vice chancellor and chief academic officer, Indiana University-Purdue University Indianapolis.
The search for a new president comes following current Marshall President Jerome Gilbert's announcement that he will not seek an extension of his contract, which is set to end in July.
Danilowicz's first stop as an administrator in higher education came overseas at University College Dublin. His career path has followed a strict pattern, one he said has prepared him for a presidency.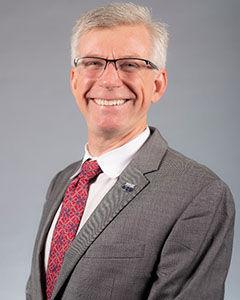 "When I started in administration in Ireland, I started that because it was an opportunity to see what it was like to help others. I learned that I really enjoyed that experience. When I moved back to the States, every move has been building toward a presidency, purposefully," Danilowicz said.
His first position after moving back stateside was dean of the College of Science and Technology at Georgia Southern, where he served from 2006-12.
Before joining Florida Atlantic in 2018, he served as dean of the College of Arts and Sciences at Oklahoma State University.
He created a shared-governance strategic planning and budgeting process, diversified college and departmental leadership and established a college-wide focus on diversity and inclusion. He says he always exceeded fundraising goals.
"Each step has been purposeful. Each one for 16 years now has been specifically building my portfolio and experiences toward a presidency," Danilowicz said.
Since arriving at FAU three years ago, Danilowicz has helped increase the graduation rate, which is now one of the fastest-growing rates in the country, and made sure that each student has equal opportunity when it comes to higher education.
"We now have the fastest-improving graduation rates in the nation, and that in itself is impressive, but the more important part is that here, 42% of our students are Pell (Grant) eligible," Danilowicz said. "At Marshall that number is 37%. We (FAU) have a background of students, which is very diverse, one of the most diverse in the United States. A large proportion of Pell-eligible students are graduating at the same rate of all of our students. There is no gap in performances in students regardless of their race, ethnicity or economic background."
A Pell Grant is a subsidy the U.S. federal government provides for students who need it to pay for college.
Federal Pell Grants are limited to students with financial need who have not earned their first bachelor's degree or who are enrolled in certain post-baccalaureate programs, through participating institutions.
While he'd like to see the graduation rate at Marshall continue to climb if selected as the next president, he emphasized that you cannot graduate students you don't have, and stabilizing enrollment would be of utmost importance for him in the early stages of his presidency.
"Short term, that's the most important priority. Without stabilizing enrollment, that continually leads to decreased resources at the institution, which is not good for Marshall or for the communities where those resources matter," Danilowicz said, pointing to an 11-year trend of decreased enrollment.
While somewhat familiar with Marshall University by way of athletics, since FAU and Marshall are both members of Conference USA, Danilowicz said he's most impressed with the relationship the university has with its city and surrounding communities.
"Ultimately when my wife and I think about where we would like to be, we would like to be at an institution where we can make a difference at the university, but also the people and the businesses that look to the university for support," he said.
"That's a very strong match with my interests as well as my wife's, and a big part of what this presidency affords."
Danilowicz credited the university for its growth in recent years, expanding resources to new programs, but added that he would like to see partnerships with local businesses that "create a sense of codependency" between the university's multiple campuses and outside employers, to be leveraged as another incentive to attracting students and keeping them local after graduation.
"More recently with business incubators, there has been a lot of effort into that side of economic development, but despite all those initiatives, it hasn't been enough to stabilize enrollment," Danilowicz said. "What I would love to do as a vision for long term is use Marshall as the anchor for creating businesses that become geographically bound to the institution."
Danilowicz and his wife, Kay, have been married for 28 years and have four children.
Together, they have helped raise therapy dogs that Danilowicz uses to help make connections on and around campus.
"I found it to be a wonderful way to connect not just with students, but staff, then people got to know me as a person rather than just a dean or a provost by having a dog around," Danilowicz said.
He added that no matter who is chosen as the next president, Marshall University is in good hands after a strong group of finalists was presented.
"That's a good position to be in," said Danilowicz.