HUNTINGTON — Huntington Fire Chief Jan Rader is stepping away from the fire department, but she is not stepping away from public service.
Rader, 56, will retire as chief effective Feb. 11, Mayor Steve Williams announced Friday. She will transition into a new position — director of the Mayor's Council on Public Health and Drug Control Policy.
"I have shed tears, mourned, laughed and rejoiced with both co-workers and citizens during the past 27 years," Rader said a city news release. "The firefighters who guard this community are dedicated first responders and true heroes. I am proud to have served with each one of them and know they will excel moving forward.
"I also can't thank Mayor Williams enough for his support, leadership and friendship. He has been instrumental in solving decades-long challenges that have hindered both the Huntington Fire Department and the community as a whole."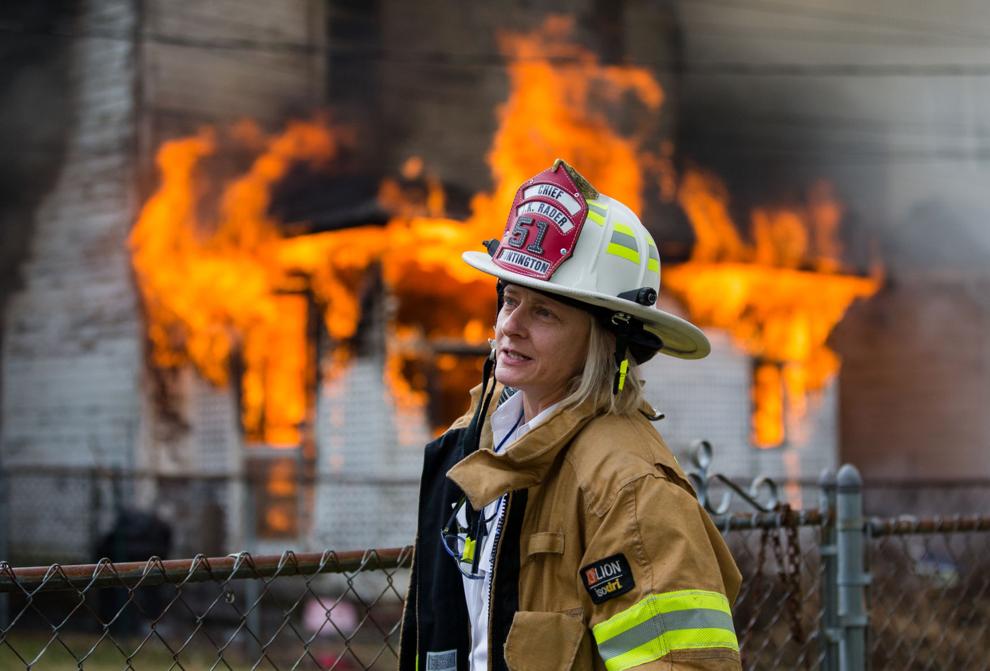 Friday was a "bittersweet" day for her, Rader said to reporters in Huntington Fire Station No. 1. The chief has been a firefighter for 27-and-a-half years after being hired in August 1994.
Rader, who was sworn in as chief in March 2017 after serving as interim since December 2016, is the first woman in West Virginia to lead as chief of a professional fire department.
Becoming a firefighter wasn't a career option Rader considered until she witnessed a woman have a heart attack in the doorway of the jewelry store where she worked as an assistant manager outside of Washington, D.C.
"I felt helpless. I didn't know how to even perform CPR, so I called 911 and waited and the fire department showed up, thank goodness," she said. "Two young ladies with small children stopped in and did CPR, and when the fire department showed up, there was a woman there and I didn't know it was a choice, so I certainly didn't want to feel helpless again."
She began talking to firefighters she knew. Then, at the behest of her brother, she took a test for firefighters in Huntington. Rader, who grew up in nearby Ironton, decided to come home.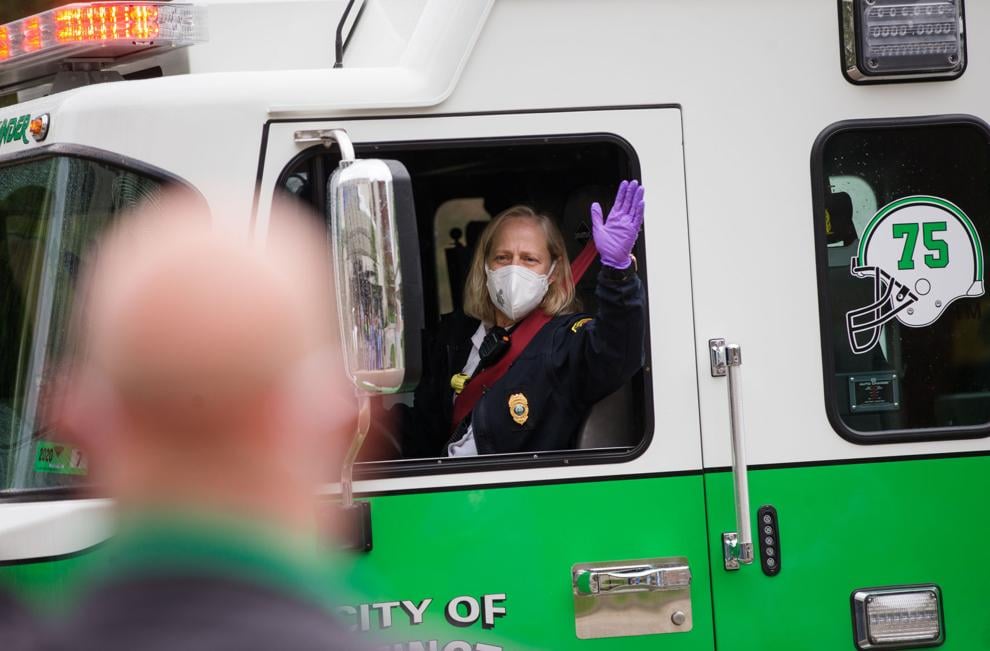 "We owe Chief Rader a debt of thanks for her leadership, her heart and her fortitude," Williams said in the news release. "Fortunately, we are not saying goodbye to her. While she may be saying farewell to the fire service, she will continue to assist our efforts in the battle against substance use disorder and the ongoing public health challenges facing our city, state and nation. We aren't done yet."
Rader said she feels that the fire department is in good hands, adding that excellent chief officers are in place. With the mayor's guidance, she said the fire department has been able to solve decades-long issues that have plagued the department and the city, and believes those solutions will continue.
"I come to work and I try to do the best that I can every day, and hopefully we make a difference, and I feel like we have made a difference and will continue to make a difference … I'm the biggest cheerleader you can have for this department and will continue to be, even though I will no longer be the chief," she said.
Moving into the director role is "a natural move" for her because of her work with the Mayor's Office of Drug Control Policy and on addiction issues within Huntington, she said. The decision for her to become the director was made last week.
"The world around us is changing. The epidemic is still there," Rader said. "It's going to be here for years, but it evolves and we need to be able to adapt to overcome what we're dealing with."
As for the fire chief to follow Rader, she said any advice for that person will be given in private. Rader hopes the next chief will treat people with "dignity, respect and compassion." She is proud of the department's work with compassion fatigue and post-traumatic stress disorder not just for firefighters, but also for first responders in general.
"When you're a first responder, you spend a lot of time crying, mourning with not just your co-workers but the citizens that you serve," Rader said. "And, you know, when there's an emergency, the fire department is not there to fix it or make it better — we're trying to do what we can to mitigate the situation that is there and comfort people. We try to hook them up with services that can help them from where they are. You know, we watch people lose everything they've worked for their whole lives in 15 minutes, and it's devastating. So, you certainly don't want your fire chief or department to have a bad day because that means someone has had a horrific day."
To find a new Huntington Fire chief, Williams will assemble a resident-based search committee to assist him in the selection, much like the process used to hire Huntington Police Chief Karl Colder. Names of members will be announced in the near future, the city said. An interim chief will be named soon.
"The committee members will be trusted individuals who will have the capabilities of vetting fire chief candidates thoroughly and recommending finalists to me whose vision of public safety reflects the needs of our community," Williams said in the release.
In the coming weeks, Williams will announce more details about the mission of the Council on Public Health and Drug Control Policy.
When asked if she sees the new council as a successor to the Mayor's Office of Drug Control Policy, Rader said it is a "natural variation." She said the office "did a wonderful job and set the standard." Other entities in the community aided in the office's efforts, which the office facilitated. Now is the time to branch out and change, Rader said, as the opioid epidemic evolves and the area continues to deal with the impacts of the coronavirus pandemic.
For the month ahead, Rader said she plans to savor her last moments at the helm of the fire department and spend time with her co-workers.
"I love this community. It's a very warm and inviting community, and it's been a pleasure and an honor to serve them and I will continue to do that, even as a regular citizen or working in the new office," Rader said. "So, I can't think of a better community in this country … Appalachia is home. Huntington is home."